North Wales port selected as operations and maintenance base for 2 billion Euro Gwynt y Mor Windfarm
October 2011
RWE npower renewables announced on the 5th October 2011 that North Wales- based Port of Mostyn will be the operations and maintenance base for the Gwynt y Môr Offshore Wind Farm, one of the largest in the World.
In a deal worth more than £50million over the lifetime of the wind farm, Port of Mostyn will benefit from vital infrastructure development and the creation of a major new operations and maintenance base, where more than 100 new long term, skilled engineering jobs will be created.
Today's announcement in respect of Mostyn, is the company's highest value, long-term contract awarded to a company in Wales for Gwynt y Môr and reinforces the company's commitment to investing into the North Wales area.
At 576MW, Gwynt y Môr will be one of the largest offshore wind farms in the world and is being built by RWE npower renewables. The project is a shared investment between partners RWE Innogy, Stadtwerke München GmbH and Siemens(2). Once fully operational, energy generation from Gwynt y Môr is expected to be equivalent to the average annual needs of around 400,000 homes(3).
RWE npower renewables' Gwynt y Môr project director Toby Edmonds said: "We are very pleased to have been able to secure the Port of Mostyn as our home for the next 25 years. The Port of Mostyn has already proved itself extremely capable as the base for construction and operation of North Hoyle and Rhyl Flats and this agreement builds on this."
Managing Director of the Port of Mostyn Jim O'Toole said: "We are extremely pleased to have been chosen by RWE npower renewables for Gwynt y Môr for the long term operations & maintenance base. "We see theGwynt y Môrproject as a strengthening of the relationship which we established with RWE npower renewables during the North Hoyle and Rhyl Flats projects, and that will significantly increase business and employment opportunities not just for the Port of Mostyn but also for the wider North Wales region."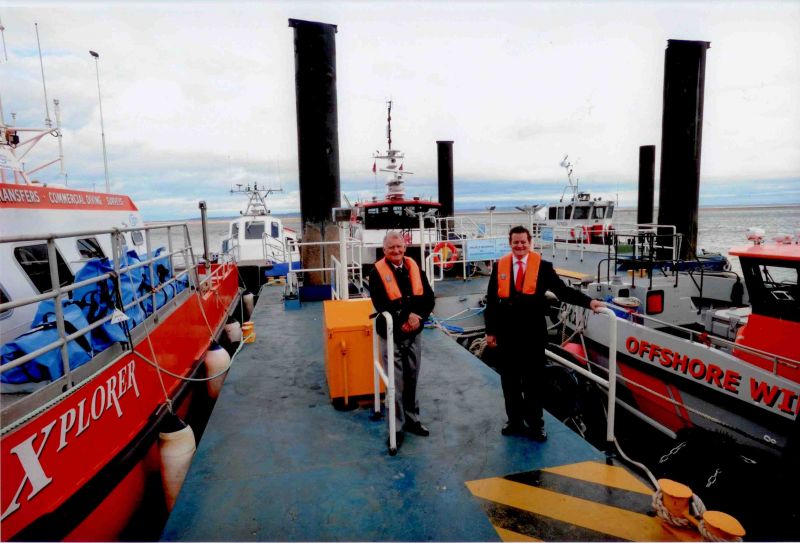 Pictured above Jim O'Toole and Toby Edmunds