Walney construction vessels at Mostyn
August 2010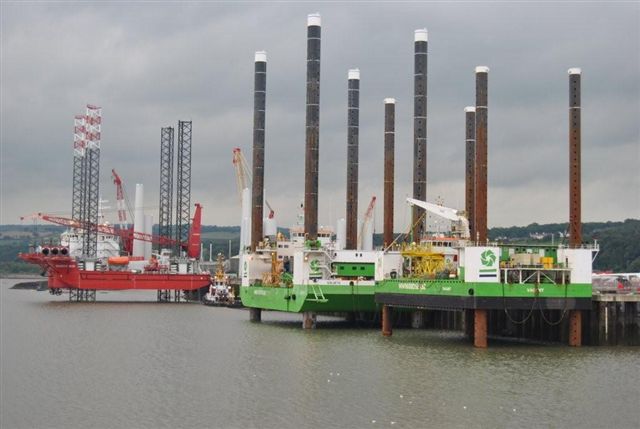 Walney 1 Offshore Windfarm Construction Vessels at Mostyn 26th August 2010
Three of the main jack-up vessels engaged in the construction of Phase 1 of the Walney Windfarm offshore off Barrow-in-Furness are seen together alongside at The Port of Mostyn in late August.
In the fore and middle ground are the "Vagant" and "Goliath" operated by Geosea N.V. of Belgium and also their assisting tugs "Multratug 17" and the "Sea Bravo". In the background is the Panamanian registered "Seajacks Kraken" operated by Seajacks UK Ltd of Great Yarmouth
The "Goliath is being used to drive the foundation piles and the "Vagant" to transport the transition pieces to the construction site. The self-propelled "Seajacks Kraken" can be seen part loaded with Siemens 3.6Mw turbines which she transports from Mostyn and installs on site using her main crane which has a capacity of 200 tonnes.